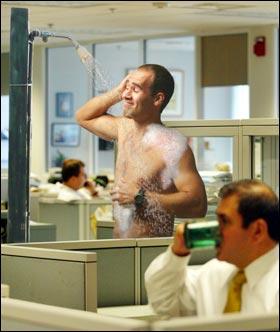 JUST ADD WATER: Feeling tired? Instead of drinking that ho-hum cup of coffee, lather up with Shower Shock for a quick pick-me-up.
$6.99 plus shipping and handling from ThinkGeek, 10801 Main St., Suite 700, Fairfax, Va. 22030, phone: 888-GEEKSTUFF (433-5788), Internet: www.thinkgeek.com
Suggested by Karen Durkin of Pottsville, Pa.
We've all exclaimed the following exclamation a million times: ''I wish there were some way I could absorb caffeine directly into my body while showering!''
Well, now there is a way, in the form of Shower Shock brand caffeinated soap. Each four-ounce bar of Shower Shock contains enough caffeine to provide the consumer with 200 milligrams of caffeine per shower, for 12 showers. The manufacturer states that this caffeine ''is absorbed through the skin.''
This breakthrough concept will make a fine gift for those people on your holiday list who do not have time to drink coffee manually, or simply dislike it. When these people need a quick ''pick-me-up'' at work or school, all they have to do is remove their clothing, pour some water on themselves, whip out their bar of Shower Shock, and lather up. Then they're back to work, feeling refreshed and alert. This will be helpful when they talk to the police.